The Cloister
The cloister (a courtyard with a colonnade inside a former residence, often used for the cultivation of officinal or decorative plants) has undergone a series of changes over the centuries, dictated by the different uses of the building.
In the 1960s, the Municipality of Rome undertook to transform the building into the museum we see today, through an architectural recovery project, signed by Attilio Spaccarelli with the collaboration of Fabrizio Bruno, which brought to light all the architecture commissioned by the nuns in 1723 to Francesco De Sanctis, thus also recovering the ancient cloister.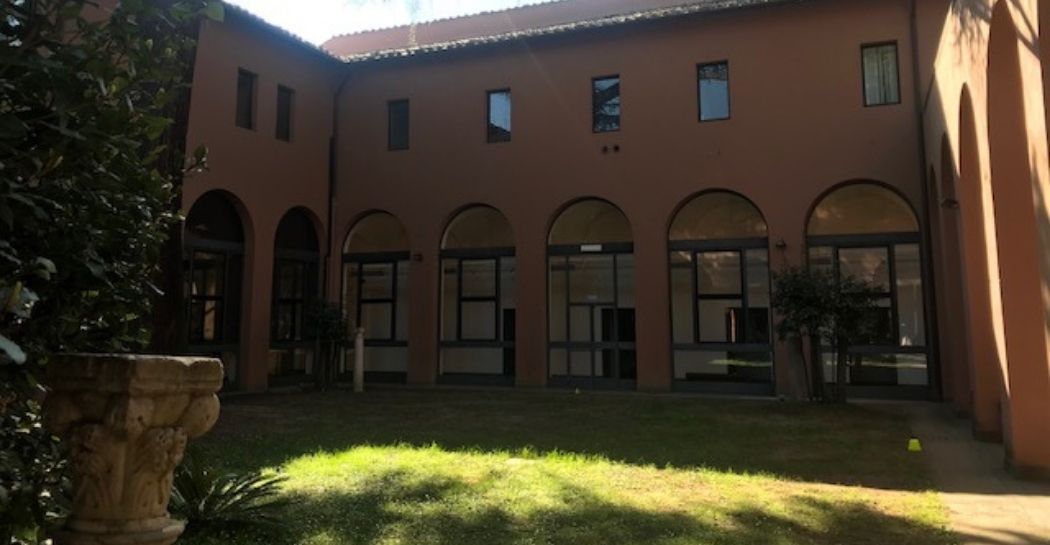 Today, the rounded arches surrounding the cloister are closed by glass windows to create a space suitable for exhibitions; the open-air area is sometimes used during the summer season to host concerts, theatre and dance performances, all in the shade of an imposing Himalayan cedar.
Inside are sculptural artefacts, which in the middle of the last century were grouped together to form a small structure against the east side of the cloister. These are three small columns, reused elements that may have belonged to one of the churches originally included in the building at the time of the foundation of the monastery (early 17th century); a slab, carved with rosette and star motifs, for which we can consider the same origins; a crouched animal torso, probably a feline; a small stone; and a group with cherubs, which belonged to a fountain, now missing, but which archive documents and period photographs suggest has always been there.
Total area m2 500 approx
portico m2 150 height 5.50 m
lawn m2 400 approx
Info concession space: valorizzazione.sovrintendenza@comune.roma.it