Presentation of the Museum
The Museo di Roma in Trastevere is located in the former monastery of Sant'Egidio, where the Carmelitane Scalze lived from the seventeenth to the nineteenth century. Once restored, from 1977 to 2000 it hosted the Museo del folklore e dei poeti romaneschi.
In 2000, in order to confirm its mission and its relationship with the Museo di Roma, the City Administration changed its mission calling it Museo di Roma in Trastevere and providing the citizens with a place where Rome meets international culture through new languages of the art research, with temporary exhibitions, mainly of photography, and cultural activities.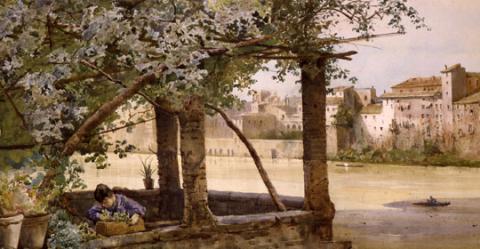 Offering the public a series of temporary activities distinguished by the quality of the scientific projects and the range of ideas on Rome and its territory, since 2000 the Museo di Roma in Trastevere can be considered a wide ranging exhibition and heritage workshop devoted to Rome: a work that has also been rewarded by the public in terms of the number of visitors.
The exhibitions produced through important relationships and partnerships and organised by important names in the history of Italian and foreign art and photography are distinguished by the fact that they are true "art" exhibitions where the settings are presented in fascinating settings.
The Museum offers an exhibition schedule at a high level, focused on the great movements and characters that have made the history of contemporary art and photography: a reflection by chapters on the great protagonists and indispensable for understanding the present time.
The museum does not neglect educational activities for schools, adults and families and for MiC card holders with a calendar of visits with curators along the path of the permanent collection and temporary exhibitions.
At the same time, the Museo di Roma in Trastevere is a place of culture and encounter where in-depth projects can be promoted through meetings and seminars in the Multimedia Room, artistic documentary films in the Video Room, music and art in the Piano Room, not forgetting the fascinating and multifunctional outdoor space of the Cloister.