ABITARE A ROMA in periferia
Immagine: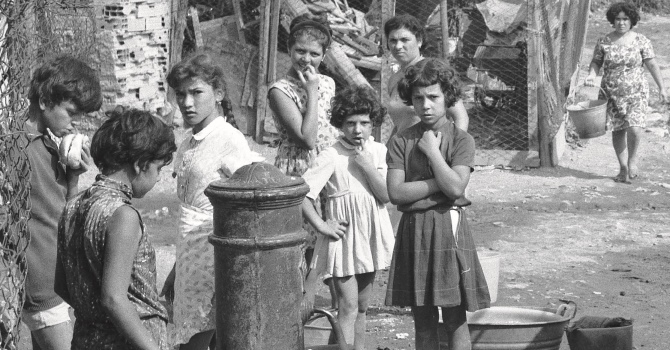 Fotografie di Rodrigo Pais nella seconda metà del '900
21/09/2016 - 15/01/2017
Museo di Roma in Trastevere
The pictures taken by artist Rodrigo Pais restore with a direct and pragmatic style, typical of the photographer, the profound identity of the eternal city, Rome, and its suburbs, while keeping the same intensity of the pictures taken by great photographers such as: William Klein, Bruce Davidson, Garry Winogrand, Eugène Atget, Robert Doisneau.
Pais testifies not only a historical period from the perspective of the urban development or historical and political context of the italian capital, but he delves into the most subtle textures. His  social and documentary photography, often of denunciation, shows a raw and direct reality which offers the viewer the identity of a city that can be found in the faces of its citizens, in the places and in the landscapes where they live.
His documentary works produced with professionalism and attention to detail, which consist of almost 380.000 phototypes with great historical and artistic value, witness the history, the culture and the society of a big metropolitan city but in the meantime the everyday life which would be lost without the lens of Pais.
The exhibition is divided into 3 sections. The first one, entrusted to the architect Stefano D'Amico, tells about the development of public and private buildings of the city from the 50s till the 90s. The second one, entrusted to Professor Francesco Sirleto, evidences the fight for the right to the council housing, from the first spontaneous protests to the movements organized by organisms such la Sunia. The third one entrusted to sociologist Franco Ferrarotti, which from the 70s dedicated to Capitoline suburbs, in particular to the lifestyle conditions of the beggars.
Information
Place
Museo di Roma in Trastevere
Opening hours
Tuesday-Sunday: 10.00 - 20.00;
24 and 31 December: 10.00-14.00
Last admission 1 hour before closing time;
Monday: closed.
25 December: closed
Exceptionally open 26 December and 2 January from 10.00 to 20.00
Exceptionally open from 15.00 to 19.00 on Sunday, January 1st, 2017.
Free entry for citizens residing in Rome only (showing a valid ID proving residence).
Please check our Notice page for special openings and/or temporary closures.
Information
Tel. +39 060608 (every day from 9.00 to 21.00)
Type
Exhibition|Photography
Other information
Promoted by: Roma Capitale - Assessorato alla Crescita culturale - Sovrintendenza Capitolina ai Beni Culturali, Ministero dei Beni e delle Attività Culturali e del Turismo, Regione Lazio, Alma Mater Studiorum Università di Bologna
Sponsored by
MasterCard Priceless Rome
Media Partner
Il Messaggero
Servizi museali
Zètema Progetto Cultura
Catalogo
Lingua:
Italiana e inglese
Eventi correlati
Currently there are no ongoing activities.
There are no planned activities.