The Bookshop
The bookshop inside the museum in Trastevere, with its particular placement, provides easy access both for visitors to the museum and for simple walkers.
The bookshop contains books with a special focus about Rome, painting, photos and cinema.
The permanent collection of the museum includes a museum guide in Italian/English, a catalogue of the Roesler Franz watercolours of the Roma 'sparita' and several volumes on the life of the poet Trilussa.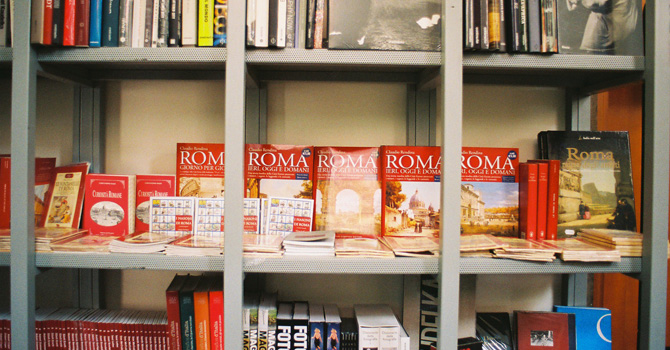 There is a wide selection including books about Rome, the Trastevere district, the history of photography and a section dedicated at the cinema (books on the main directors, including Bunuel, Visconti, Rossellini).
For each new exhibition, the bookshop renovates, and offers special books based directly around the theme.
A wide range of gifts is also available, including CDs on popular Roman and non-Roman songs, postcards of contemporary Rome, Roesler Franz's Roma sparita and old collotype photos from the Alinari Archives of typical Roman landscapes.
A friendly and professional service helps not only with the direct purchase, but also with the possibility to purchase titles and articles on demand, which can also be delivered to your home. Payment can be made by cash, credit card or debit card.