Roman scenes and the Nativity scene
The so-called Roman Scenes, life-size sets representing aspects of popular Roman life in the nineteenth century, were designed for the great Universal Exhibition in Rome in 1911 and later adapted for display in the first Museum of Rome, conceived as a museum of the city's memory, and inaugurated on Christmas in Rome in 1930.
During the twenty years of Fascism, with the need to develop the discipline of Italian ethnography, many Roman scholars began a heated cultural debate between museographic rationalism and museography of suggestion, producing public exhibitions with a realist slant, with the intention of showing everyday objects in their context and thus compensating scenically and emotionally for the lack of artistic value of the displays.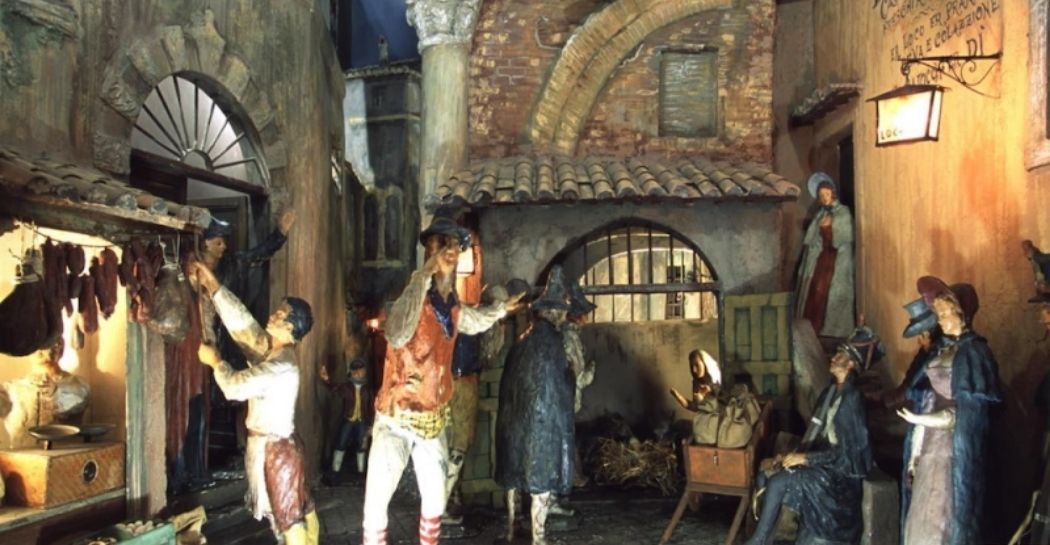 When museology became a scientific discipline in the 1970s, taking an interest in the social, philosophical, political and cultural dimensions, the Capitoline Administration gave a new look to the Museum of Rome, which was by then housed in Palazzo Braschi, and transferred the Roman Scenes to the newly established Museum of Folklore and Roman Poets. The modern museum in Trastevere would thus have responded to the need expressed by many intellectuals to recover the memory of Rome's social life at the dawn of Italian unification, favouring the representation of the lower classes and contrasting it with the courtly pictorial images of the grand tourists fin de siecle who had always been identified by the presence of ruins synonymous with the magnificence of antiquity.
Designed by Antonio Barrera and taken from prints by Tomas, the Roman Scenes reproduced the Saltarello romanesco, the Osteria and the Scrivano Pubblico. The documentary materials and exhibition criteria used in the staging of the Scenes were the same as those proposed for the Costume Exhibition promoted by the Province of Rome and inaugurated in 1927 at Palazzo Valentini.
Later, Orazio Amato (1884-1952) created the scenes of the pifferai, the carro a vino, the portantina and the farmacia, using the same criteria as the first ones.
With the same intention, in the 1970s the Nativity scene was added to the museum itinerary with papier-mâché statuettes by Angelo Urbani del Fabretto inspired by scenes of popular life depicted in drawings by Bartolomeo Pinelli.