The paintings of Diego Angeli
The series of paintings by the hand of Diego Angeli (Florence, 8 November 1969 - Rome, 23 January 1937) is the only known evidence of his pictorial production and constitutes a corpus of great interest in the permanent collections of the Museo di Roma in Trastevere.
The precious artistic collection consists of 76 small views in oil and on paper, cardboard and wood, executed between 1885 and 1936 and of a particular format no larger than a postcard, executed for the most part in Rome, with some exceptions in Sabina, Florence and Paris. It was acquired by the City Council in two stages in 1991 and 1992. These are unusual views of the historic city and the Latium countryside, evidence of the writer's fascination with the historic and best-known places and the landscape of the countryside on the outskirts of Rome, a fascination that was also destined to influence his journalistic and literary activity.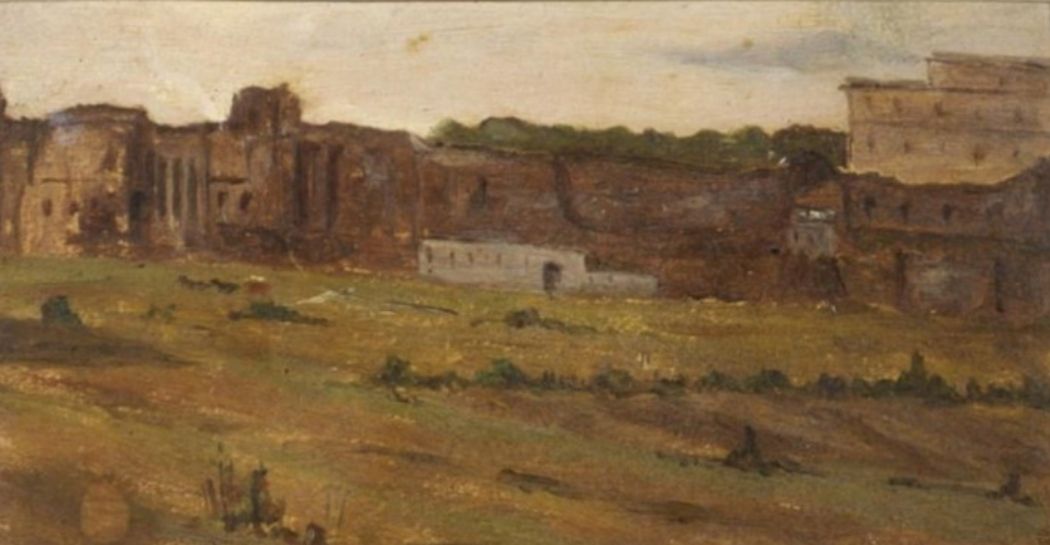 Thus, in his small paintings Diego Angeli favours unusual views, almost notes in pictorial form for an ideal notebook of his Roman walks. Compared to the monumentality of Rome, the artist chooses to favour more hidden spaces, almost invisible to others, glimpsed while walking through the nearby Roman countryside or the majestic historic villas. This choice betrays one of the profound features of his painting, an originality of vision that profoundly characterises, for example, the views dedicated to the places most marked by the city's glorious past, rendered in most cases from unexpected angles. Examples are Villa Ludovisi (September 1988), about to disappear under the blows of the demolition pickaxe, or Rovine dei Gordiani outside Porta Maggiore (1897). In these works, the monuments are only hinted at and confined to the background, and the dominant element is the dark patches of the meadows in the foreground and the light ones of the skies streaked with clouds.
The entire corpus of Diego Angeli's paintings was exhibited in the Museo di Roma in Trastevere in 2019-2020 and was accompanied by a book (Gangemi editore, 2020) that explored the artistic personality of this artist and his great aptitude for turning his gaze towards multiple disciplines.