L'AQUILA BEFORE AND AFTER. Photos by Gianni Berengo Gardin
Immagine: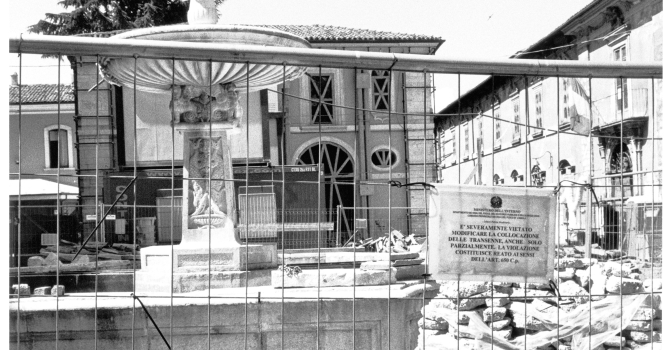 27/09 - 11/11/2012
Museo di Roma in Trastevere
As part of the eighth edition of "Fotoleggendo", the "L'Aquila" exhibition presents photographs that Gianni Berengo Gardin took from 1995 to 2011. The result is an exhibition in which the photographer displays images of places and people portrayed before and after the earthquake.
The moving story of the city of Aquila, before and after the earthquake, in an exhibition of a great master of photography three years after the tragedy of April 6, 2009.
Gianni Berengo Gardin's relationship with L'Aquila began sixteen years ago, when he immortalized the city's extraordinary architecture and the warmth of its people. Years later, the photographer returned to the scene to bear witness, once again through his photographs, to the city's reduced state after the earthquake, to a paralyzed, wounded city, its historic center pierced by scaffolding, hidden by tarp and beams, streets that once teemed with sounds and with life, now deserted.
Beyond documenting L'Aquila's decline after the quake, Berengo Gardin's images draw the hard, inevitable comparison between before and after. A painful document, but one that is necessary for those in exile from their own lives, in an urban fabric that represents what is no longer there.
In the great tradition of the working photographer, Berengo Gardin employs his unique and classic style to draw a portrait that is sincere, vibrant, and acutely aware of the social reality of the wounded city that has become the symbol of our country. "The thing that's most striking," says the photographer, "is the silence in the streets. No one goes by; no one's there. There are no children playing, no women shopping, no people going to the office. There were just four stray dogs roaming around. And I—I'm pretty old—I remember in Rome, how San Lorenzo was after the American bombing. I was fourteen years old, and it was the same thing. The stray dogs left wandering the city, the shored-up houses, and this deathly silence."
The show will be accompanied by a text from Contrasto and One Group.
Information
Place
Museo di Roma in Trastevere
Opening hours
Tuesday-Sunday: 10.00 am - 8.00 pm;
 Monday: closed;
Last admission one hour before closing time.
PLEASE NOTE: on Saturday, October 6, 2012, for the "Night of Museums" the museum is open with free admission from 8:00 pm to 2:00 am (last admission: 1:00 am)
Entrance ticket
Adults: € 6,50;
  Concessions: € 5,50;
  Roman Citizens only (by showing a valid ID):
  - Adults: € 5,50;
 - Concessions: € 4,50;
PLEASE NOTE: On 29 and 30 September, for the European Heritage Days, the ticket € 1,50.
BOOKING:
  - Groups (max 25 visitors): guided tours are available either for the museum and/or exhibition. A booking service is available for groups (max 25 visitors) for an additional booking fee of € 25,00;
 - Schools (max 25 pupils/students): guided tours are available; booking is required for the admission.
Booking for individual visitors is available only when purchasing online tickets. If you book in advance you can skip the line by going directly to the ticket window.
 Phone booking: tel. +39 060608 (daily from 9.00 am – 9.00 pm).
Information
tel. +39 060608 (daily from 9.00 am to 9.00 pm)
Type
Exhibition|Photography
Buy online
Additional booking fee: € 1,00.
Other information
Promoted by: Assessorato alle Politiche Culturali e Centro Storico - Sovraintendenza ai Beni Culturali di Roma Capitale, in collaborazione con Contrasto e One Group
Under the patronage of: Assessorato alle Politiche Culturali del Comune dell'Aquila e Provincia dell'Aquila
Organization and Museum services: Zètema Progetto Cultura
Sponsors of the Civic Museum Network: Acea; Banche tesoriere di Roma Capitale: BNL Gruppo BNP Paribas, UniCredit, Banca Monte dei Paschi di Siena; Acqua Claudia; Finmeccanica; Il Gioco del Lotto; Vodafone.
With technical contributions from
Curator
Alessandra Mauro e Suleima Autore
Catalogo
2012, 148 p., ill., rilegato
Eventi correlati
Currently there are no ongoing activities.
There are no planned activities.