Biographical Landscape. Fotografie di Stephen Shore 1969 –1979
Immagine: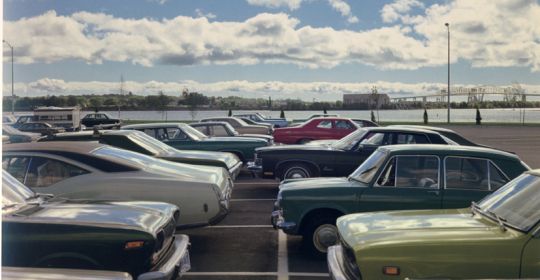 26/02 - 23/05/2010
Museo di Roma in Trastevere
The exhibition displays 164 photographs which illustrate the methodical exploration of landscapes in the work of Stephen Shore and its strong parallel with conceptual art.
The exhibition illustrates the methodical exploration of landscapes in the work of Shore and its strong parallel with conceptual art. At age seventeen, Shore met Andy Warhol and began to frequent Warhol's studio, the Factory, and became aware of pop culture. Later he focused his attention on unusual landscapes - the Uncommon Places – of the American West. The 164 photographs on display here are arranged in chronological order, starting from Shore's first trip across America that began on July 3, 1973. This early work focuses on the Pop art dimension of Shore's work and includes part of his postcard collection of Amarillo (Texas), and a collection of photographs featured in All the Meat You Can Eat—an exhibition curated by Shore in 1972.
The second section represents the period from 1974 until 1976 where Shore developed a formal approach to reality, focusing on linear perspective. In this phase, the titles of the photographs and their centralized composition emphasize the biographical nature of these landscapes. The focal point of these images precisely defines Stephen Shore's position in the landscape he presents.
Starting in 1976, Shore approaches the landscape with a different set of motives. This third period is marked by a denial of any focal point or single point of perspective. In doing so, Shore alludes to the reality beyond the photograph, extending the image past the picture frame.
Information
Place
Museo di Roma in Trastevere
Opening hours
From Tuesday to Sunday 10.00 a.m.- 8.00 p.m.
Last admission one hour before closing time
Monday Closed
Entrance ticket
Adults: € 5,50
Reduced: € 4,00
Free: Children (18 and under) - Seniors (65 and over)
Information
060608 (every day from 9.00 a.m to 9.00 p.m.)
Type
Exhibition|Photography
Other information
curated by Comune di Roma Assessorato alle Politiche Culturali e della Comunicazione – Sovraintendenza ai Beni Culturali, Aperture Foundation.
Organization
Zètema Progetto Cultura Srl
Sponsored by
Banche Tesoriere del Comune di Roma: BNL - Gruppo BNP Paribas, Unicredit - Banca di Roma, Monte Paschi di Siena, Il Gioco del Lotto, Atac, Vodafone
With technical contributions from
Eventi correlati
Currently there are no ongoing activities.
There are no planned activities.
There are no archived activities.