World Press Photo
Immagine: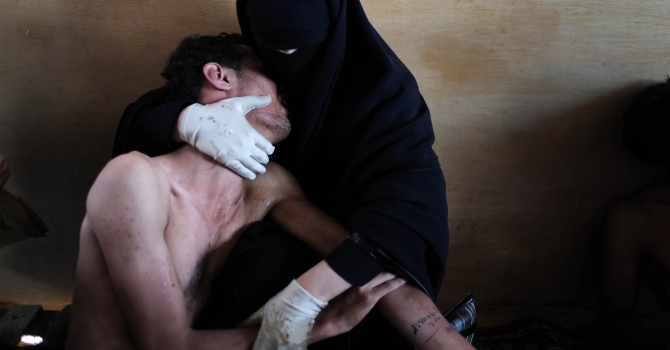 Photography and journalism: 2012 winning images
28/04 - 20/05/2012
Museo di Roma in Trastevere
An exhibition of images from the latest edition of the World Press Photo Award, one of the most important awards available for aspiring photojournalists. The Photo of the Year 2011 is by the Spanish photographer Samuel Aranda.
For over 55 years the World Press Photo contest has encouraged the highest standards in photojournalism.
The contest creates a bridge linking the professionals with the general public. As the announcement of the winners makes headlines around the world, so the inspirational role of photojournalism is highlighted to an audience of hundreds of millions.
All the prize-winning photographs are assembled into an exhibition that travels to 45 countries over the course of a year, and published in our yearbook. Over two million people go to a hundred different venues to see the images, and our yearbook is published in seven languages and distributed worldwide.
The contest is judged by leading experts in visual journalism who represent various aspects of the profession. The composition of the jury is changed from year to year, they operate independently, and a secretary who has no vote safeguards our fair and balanced judging procedure.
World Press Photo of the Year 2011 is by Samuel Aranda
Fatima al-Qaws cradles her son Zayed (18), who is suffering from the effects of tear gas after participating in a street demonstration, in Sanaa, Yemen, on 15 October. Ongoing protests against the 33-year-long regime of authoritarian President Ali Abdullah Saleh escalated that day. Witnesses said that thousands marched down Zubairy Street, a main city thoroughfare, and were fired on when they reached a government checkpoint near the Ministry of Foreign Affairs. Some demonstrators retreated, others carried on and were shot at again. At least 12 people were killed and some 30 injured. Ms Qaws—who was herself involved in resistance to the regime—found her son after a second visit to look for him, among the wounded at a mosque that was being used as a temporary field hospital. Zayed remained in a coma for two days after the incident. He was injured on two further occasions, as demonstrations continued. On 23 November, President Saleh flew to Saudi Arabia, and signed an agreement transferring power to his deputy, Abdurabu Mansur Hadi. Saleh's rule ended formally when Hadi was sworn in as president, following an election, on 25 February 2012.
Information
Place
Museo di Roma in Trastevere
Opening hours
Tuesday-Sunday: 10.00 am - 8.00 pm;
Last admission 1 hour before closing time;
Closed: Monday, May 1.
19 May, 2012: the venue is open and free of charge from 8.00 p to 2.00 am (last admission 1.00 am).
Please note, the program may be subject to change without notice.
Entrance ticket
Adults: € 6,50;
Concessions: € 5,50;
Roman Citizens only (by showing a valid ID):
Adults: € 5,50;
Concessions: € 4,50;
Free of charge to the visitors provided for by the current legislation
BOOKING:
- Groups (max 25 visitors): guided tours are available either for the museum and/or exhibition. A booking service is available for groups (max 25 visitors) for an additional booking fee of € 25,00;
- Schools (max 25 pupils/students): guided tours are available; booking is required for the admission.
Booking for individual visitors is available only when purchasing online tickets. If you book in advance you can skip the line by going directly to the ticket window.
Phone booking: tel. +39 060608 (daily from 9.00 am – 9.00 pm).
Online tickets:
www.omniticket.it.
Additional booking fee: € 1,00.
Information
 Info: tel. +39 060608 (daily from 9.00 am to 9.00 pm).
Type
Exhibition|Photography
Other information
The exhibition is promoted by the Assessorato alle Politiche Culturali - Sovraintendenza ai Beni Culturali di Roma Capitale, in collaboration with the Agenzia Contrasto and the World Press Photo Foundation in Amsterdam.
Organization and museum services:
Zètema Progetto Cultura;
Sponsors of the Civic Museum Network:
BNL Gruppo BNP Paribas, Unicredit, Banca Monte dei Paschi di Siena;
Acqua Claudia; Finmeccanica; Il Gioco del Lotto; Vodafone.
With technical contributions from
Eventi correlati
Currently there are no ongoing activities.
There are no planned activities.
There are no archived activities.