"Uscite, Uscite o Sorci – Disse Un Micio…" Gatti e Topi nella letteratura e nell'arte
Immagine: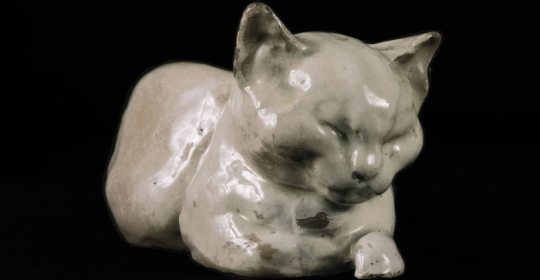 Cats and Mice in literature and art
08/04 - 05/06/2011
Museo di Roma in Trastevere
An exhibition dedicated to these cats and mice - mysterious and fascinating the first, disturbing and controversial the other second- both have inspired writers, musicians, illustrators, poets, artists. The exhibit is divided into several sections, collects old and new materials: paintings, drawings, sculptures, furnishings and decor, books, newspapers, magazines, comic books, collections.
Supports and captions guide the public through the exhibition, providing information and news about books and authors who loved these animals, while the multimedia hall of the museum hosts a program of classic movies and cartoons with the two animals as main characters.
A special space is dedicated to Trilussa a central figure in this exhibition, also for his works already on display at the Museo di Roma in Trastevere. May humorous characters spring from his fantasy, such as the socialist cat, the country and city mouse, figures that represent their ages with wit and grace.
Catalogo:
Palombi Editori, ed. by Giovanna Alatri, Emma Ansovini and Lorenzo Cantatore
Information
Place
Museo di Roma in Trastevere
Opening hours
Tuesday-Sunday: 10.00 am - 8.00 pm.
Last admission 1 hour before closing time.
Closed: Monnday.
Entrance ticket
Adults: € 6,50
Concessions: € 5,50
Roman Citizens only (by showing a vaild ID):
- Adults: € 5,50
- Concessions: € 4,50
Information
Info: tel. +39 060608 (daily from 9.00 am to 9.00 pm)
Type
Exhibition|Documentary
Other information
Organizers: Roma Capitale, Assessorato alle Politiche Culturali e Centro Storico - Sovraintendenza ai Beni Culturali
Organizzazione e servizi museali
Zètema Progetto Cultura
Sponsor Sistema Musei Civici
FINMECCANICA, BNL, UNICREDIT BANCA - Banca di Roma, MONTE PASCHI di SIENA, Vodafone, LOTTOMATICA
With technical contributions from
Curator
Giovanna Alatri e Donata Tchou
Eventi correlati
Currently there are no ongoing activities.
There are no planned activities.