Mash Up. Antonio Barrella, Luca Cosenza, Guillermo Mariotto
Immagine: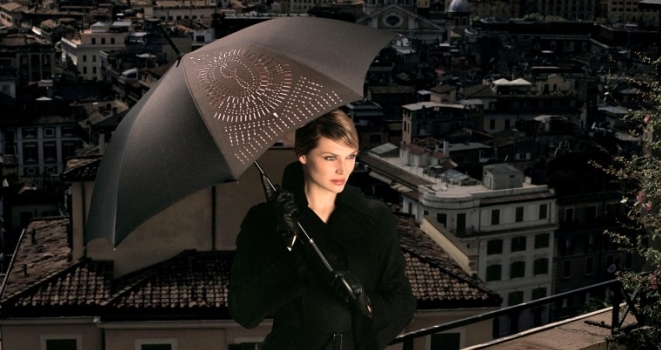 01/06 - 16/09/2012
Museo di Roma in Trastevere
The exhibition chronicles the collaboration of three "erratic geniuses," who almost unconsciously marked a turning point in the visual communication between 1998 and 2012: Guillermo Mariotto, fashion designer, Antonio Barrella, photographer, and Luca Cosenza, art director.
Nowadays DJs use Mash-Up to replace the concept of remix, technically it describes, in music, a track made from mixed fragments of other songs. Translating the term into art it aims to shape a new form. And this is the meaning of the photographic exhibition Mash Up. Not only picture about fashion, but that wish to tell a story, surprise, shock, generate thoughts, trigger fierce criticism or real appreciation.Guillermo Mariotto is the creator of the beautiful dresses that are the creative centre of the photographic image: stunning clothes, created to shock and provoke reactions in the  media. The light, instead, is a sign of identification in Antonio Barrella's shots taken with his inseparable Hasselblad. Luca Cosenza depicts the contemporary world going beyond form: for him  content is all, and his works are full of refined quotes, bold cultural parallels, playful provocations.The exhibition traces the work of these three thinkers, who called themselves "Gruppo Fatti Creativi" and for 15 years have worked for the Gattinoni communications strategy: Guillermo Mariotto, Antonio Barrella and Luca Cosenza, have developed and implemented a untraditional photographic representation of fashion, but creating a "capsule" of genius, good taste and love for art. Looking to the future and to the imagination, which is the true essence of new adventures. The exhibition displays fifty shots, but also installations, quotes, performances, combining the quintessence of Warhol's Factory and Camouflages, Haring's graffiti, and Dali's Museum.
Information
Place
Museo di Roma in Trastevere
Opening hours
Tuesday-Sunday: 10.00 am - 8.00 pm;
Closed: Monday;
Last admission 1 hour before closing time.
Entrance ticket
Adults: € 6,50;
Concessions: € 5,50;
Roman Citizens only (by showing a vaild ID):
- Adults: € 5,50;
- Concessions: € 4,50;
Free of charge to the visitors provided for by the current legislation.
BOOKING:
- Groups (max 25 visitors): guided tours are available either for the museum and/or exhibition. A booking service is available for groups (max 25 visitors) for an additional booking fee of € 25,00;
- Schools (max 25 pupils/students): guided tours are available; booking is required for the admission.
Booking for individual visitors is available only when purchasing online tickets. If you book in advance you can skip the line by going directly to the ticket window.
Phone booking: tel. +39 060608 (daily from 9.00 am – 9.00 pm).
Online tickets: 
www.omniticket.it. 
Additional booking fee: € 1,00.
Information
Infoline: tel. +39 060608 (daily from 9.00 am – 9.00 pm).
Type
Exhibition|Photography
Other information
Promoted by Roma Capitale, Assessorato alle Politiche Culturali e Centro Storico – Sovraintendenza ai Beni Culturali
Organizationa and Museum Services 
Zètema Progetto Cultura
Sponsors of the Civic Museum Network
BNL Gruppo BNP Paribas, Unicredit, Banca Monte dei Paschi di Siena;
Acqua Claudia; Finmeccanica; Il Gioco del Lotto; Vodafone
With technical contributions from
Curator
Stefano Dominella
Didattica correlazione inversa all
Currently there are no ongoing activities.
There are no planned activities.