L'Italia s'è desta. La stampa satirica per una storia iconografica dell'unità d'Italia, dalla Repubblica Romana a Roma Capitale
Immagine: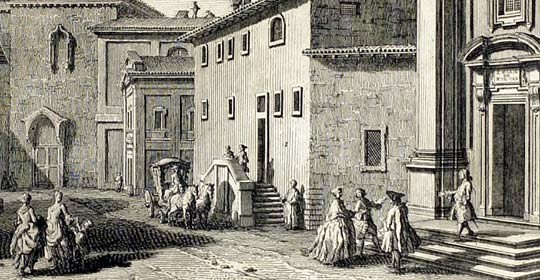 21/09 - 09/10/2011
Museo di Roma in Trastevere
The exhibition aims to provide a historical and iconographic interpretation of the Risorgimento through the works of art and creativity published in newspapers and magazines of the time by the most talented Italian illustrators.
These publications have shaped the history of our country through satire: Don Pirlone published in Rome (the first magazine to openly oppose the temporal power of the popes), Cassandrino (a conservative and clerical magazine, instead) and Er Rugantino; Lo spirito folletto in Milan, Il lampione in Florence (founded, among others, by Carlo Lorenzini, who under the pen name of Collodi became popular for his "Avventure di Pinocchio"); Il fischietto in Turin (one the most important magazine of the period for its graphic content and the great caricatures by Redenti, Virginio, Teja and others); La strega in Genoa (attacked for its content both by liberals and conservatives).
In this regard it is worth mentioning the fact that Cavour was the instigator of Pasquino, founded in 1856 in Turin and published continuously until 1930, that has become over the years the prototype of the Italian satirical magazines.
Information
Place
Museo di Roma in Trastevere
Opening hours
Tuesday-Sunday: 10.00 am - 8.00 pm;
Last admission 1 hour before closing time;
Closed: Monday.
Entrance ticket
Adults: € 4,00;
Concessions: € 3,00;
Roman Citizens only (by showing a vaild ID):
- Adults: € 3,00;
- Concessions: € 2,00;
Free of charge to the visitors provided for by the current legislation.
Information
Info: tel. +39 060608 (daily from 9.00 am to 9.00 pm)
Type
Exhibition|Documentary
Other information
Promoted by Roma Capitale, Assessorato alle Politiche Culturali e Centro Storico - Sovraintendenza ai Beni Culturali, Centro Studi Gabriele Galantara di Montelupone
Museum services
Zètema Progetto Cultura
Sponsors
FINMECCANICA, BNL, UNICREDIT BANCA - Banca di Roma, MONTE PASCHI di SIENA, Vodafone, LOTTOMATICA
With technical contributions from
Eventi correlati
Currently there are no ongoing activities.
There are no planned activities.
There are no archived activities.