Broken Landscape
Immagine: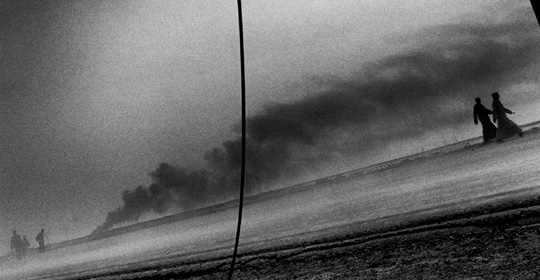 01/06 - 09/09/2007
Museo di Roma in Trastevere
A wide selection of works by Paolo Pellegrin, curated by Giuseppe Prode.
Broken Landscape involves a number of themes that have occupied Paolo Pellegrin from 1995 until today: war, exodus of refugees, earthquakes, pandemics and poverty.
The various levels on which Pellegrin concentrates in his work – the humanistic, the political, the historical, and the aesthetic, to cite but a few – can be found in all the photographs in the exhibition, from the spread of Aids in Uganda in 1995, to the wars in Bosnia, Iraq, Afghanistan, Lebanon, and even in Guantananmo, and the death of Pope John Paul II.
Much space is dedicated to the Israel-Palestine conflict, a theme to which Pellegrin has returned many time: including images of the occupied territories, Yasser Arafat's funeral, the evacuation of the Gaza Strip, right up to the war in Lebanon last summer.
They are photographs that pay attention to facts which are often forgotten or ignored, when the interest of public opinion and the media diminishes and indeed disappears. They show a "broken landscape", in which the geopolitical boundaries are built upon those of humanity.
Information
Place
Museo di Roma in Trastevere
Opening hours
tuesday-sunday 10.00-20.00
Information
tel. 06 82059127 (every day 9.00 -19.30)
Type
Exhibition|Photography
Other information
The exhibition is supported by the Office of Cultural Politics of the City of Rome and by Pro.d'e.
Organization
Zétema on behalf of the City of Rome
With technical contributions from
Epson is the exhibition's technological sponsor. The photographs have been printed using the most recent generation of Epson technology and Epson UltraChrome K3 ink.
Eventi correlati
Currently there are no ongoing activities.
There are no planned activities.
There are no archived activities.