Populare scene "pinelliana" on a plate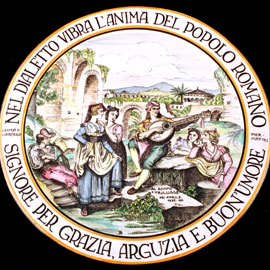 Il piatto di ceramica dipinta raffigura un poeta a braccio che si accompagna con il calascione in presenza di un pubblico di estrazione popolare, sullo sfondo di un paesaggo reso suggestivo dalla presenza di colli, archi e rovine. Il soggetto è una replica ridotta e semplificata dell'incisione di Bartolomeo Pinelli, L'improvvisatore popolare, che fa parte della raccolta Frontespizio dei Costumi di Roma, edita nel 1831.
Sul bodo del piatto sono riportati i nomi "Emma e Marcello/PierMattei" oltre alla scritta"Nel dialetto vibra l'anima del popolo romano/Signore per grazia, arguzia e buon umore". all'interno, dove in basso campeggia la sigla "M.B.", è la dedica: "Al sommo/Trilussa/XXI Aprile/1935 XIII".
The hall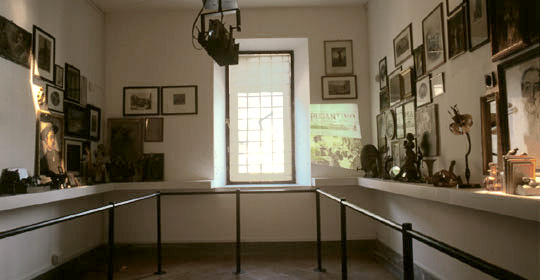 The video installation, dedicated to the life and works of the great Roman poet Trilussa, projects on four separate areas of the walls animated pictures, centred around a stream of images created with objects, photographs, letters, postcards, newspapers, drawings and films. The moving pictures follow four main themes: the public man, the private man, the poet, and friendships.
The other halls
You may also be interested in